GAT 024 Hattori Hiroyuki
Continuing to respond to circumstances, conditions, environments
2021.02.26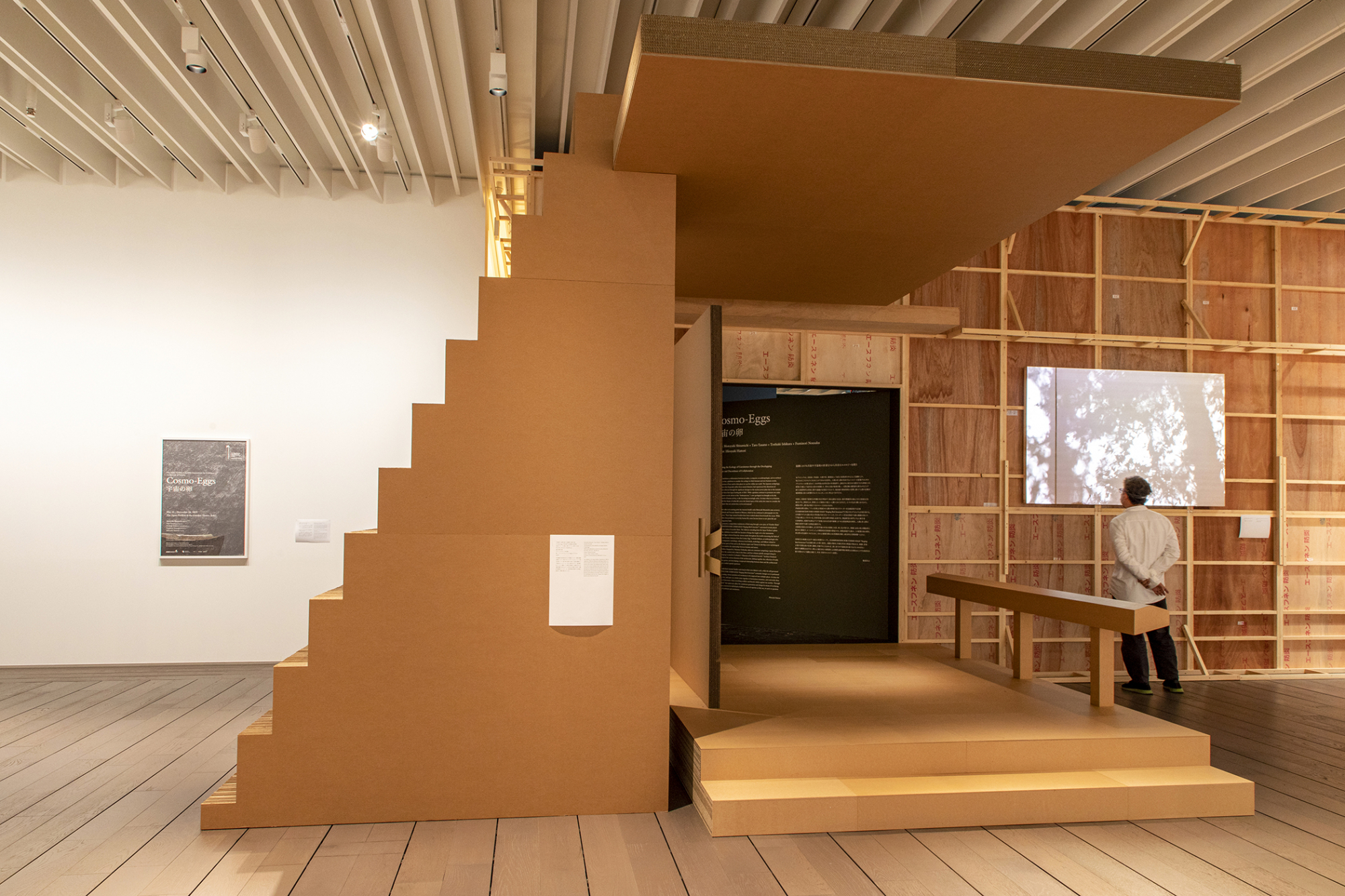 Hattori Hiroyuki studied architecture at Waseda University, where he earned his master's degree in 2006. He worked thereafter at Akiyoshidai International Art Village (AIAV) and Aomori Contemporary Art Centre (ACAC), art centers that revolve mainly around artist-in-residence (AiR) programs. He is currently engaged in graduate-level practical education at Akita University of Art, and concurrently in art center direction and program design. For the Japan Pavilion at the 2019 Venice Biennale he organized the collaborative exhibition "Cosmo-Eggs" with artist Shitamichi Motoyuki, composer Yasuno Taro, anthropologist Ishikura Toshiaki and architect Nousaku Fuminori.The following are excerpts from Hattori's talk, discussing the art practices, research, projects and so on of long-stay artists in residence, drawing mainly on his experiences.
Edited by Ishii Jun'ichiro (ICA Kyoto)
---
Creating an environment conducive to making something
I'm interested in specific localities and places—I think we can call this the characteristics of a place or region—as well as objects. I'm not very good at developing things solely on the basis of abstract thinking, so I'm interested in engaging with concrete things, including context.
I currently divide my time between Nagoya and Akita, and before that I also lived in a variety of places. Rather than travelling, I prefer to spend a long time in one place, and base my practice on working "while living in the locality concerned." In that sense, you could say I pursue my practice while engaging with the place in which I'm currently living or visiting.
I first learned about it in a book that was published five or six years ago, but I think the approach summed up by the expression "do as much as possible for and as little as possible against" fits closely with my own. The quote is from The Garden in Movement by the French gardener Gilles Cléments, and refers to the wilderness, the way gardens change and an attitude of affirming the "movement" of plants, for want of a better word. I was really inspired by this.
Though I'm a curator, rather than forcefully putting into practice strong views or themes myself, if anything I tend to adopt an approach of taking in and absorbing things and then responding to them, and I think there are aspects of what Cléments said that relate to my own approach. Though the reasons why I came to think this way are probably also related to my experience and background…
In around my twenties and thirties, I was involved in artist-in-residence (AiR) activities. What distinguishes these activities from art museums and large-scale art festivals is that they are premised on "residing" on site.
Art centers may be places that are slightly detached from everyday life, but AiR sites are places that are relatively close to it. At these kinds of places, I encountered artists who were living on site for relatively long periods of time. While engaging with people from various countries and regions with various different values, I saw artists waver and think long and hard about things before turning them into artworks, which made me think that my role there was not to provide something really strong, but to not interfere too much in the environment the artist was creating, or "to create an environment conducive to making something."
What's interesting is that once in a while something like "a mysterious collaboration" occurs. And sometimes multiple artists come together for the rather long period of time that is an AiR, so that "mysterious sessions" also occur. Looking at these occurrences, partly because my background is in architecture, I became interested in how one could induce the creation of environments, conditions or places where things could be made.
Putting my experience in Aomori to use in Venice
In Aomori city, with the exception of the Shimin Bijutsu Tenjikan, there were no municipal art museums. So around once a year, the ACAC held an exhibition introducing artworks, artifacts and archives from the city's collection. However, while a curator chose the works each time, it tended to become stereotyped, and in around 2013 we began working with various artists to put together exhibitions using works from the city's art collection.
Oh Haji, an artist with a background in dyeing, took up the theme of work clothes made mainly from hemp fabric, one of the traditional crafts of Aomori. Nakazaki Tohru, who creates artworks on the theme of the dissonance that occurs in our common knowledge, focused on skiing, which in Aomori is not just a leisure activity, but is also a cultural activity closely connected to people's everyday lives. Fujii Hikaru, who is both an artist and a film director, undertook a project involving not only various materials and artworks collected by the city, but also nameless people's memories and records in the form of an archive of locally shot 8mm film created by AHA! (Archive for Human Activities: Matsumoto Atsushi [remo], Ogasawara Haruka, Narita Minami).
A curator alone would not have hit upon the idea of an exhibition focused on skiing, and this among other experiences made me think about what the work of a curator actually involved. With artists directing things, what should I have been doing, and how could I create exhibitions together with artists when the exhibitions themselves were also the works? What kind of feedback could I give to the places, regions and people that provided such ideas? These were just some of the worries I experienced while going about my job. And so gradually I became interested in the kinds of things one might find in any location that are not often reflected on, the kinds of histories that are not often written about, all of which are the kinds of things artists focus on.
It was on the basis of such "architectural thinking" and my experience with "encounters with things at the local level" that I came up with the idea for a project at the Japan Pavilion at the Venice Biennale involving four specialists in different fields. At the root of this was my belief based on my experience with AiR that different people creating something together by chance, or something arising in this way, was extremely interesting, and that what I could do was create such an environment together with these individuals, and this was what inspired me to do a project based on collaboration.
---
Hattori Hiroyuki
Curator/ Associate professor, Akita University of Art , Graduate School of Transdisciplinary Arts
Following his graduation in architecture from Waseda University Graduate School in 2006, Hattori spent the next ten years curating at two major art centers, with a focus on their respective artist-in-residence programs. In addition to being involved in the residential artists' research and production processes, Hattori also worked on various projects. In recent years, he has been teaching arts management, curating, project design and production of public sphere in a practical approach at Akita University of Art while also directing and creating program for Art Lab AICHI. He is the curator of "Cosmo-Eggs"; the exhibition of the Japan Pavilion at the 58th International Art Exhibition, La Biennale di Venezia in 2019.
* The talk was held online on November 14, 2020.