PROGRAMS
GLOBAL ART TALKS (GAT)
About Global Art Talks (GAT)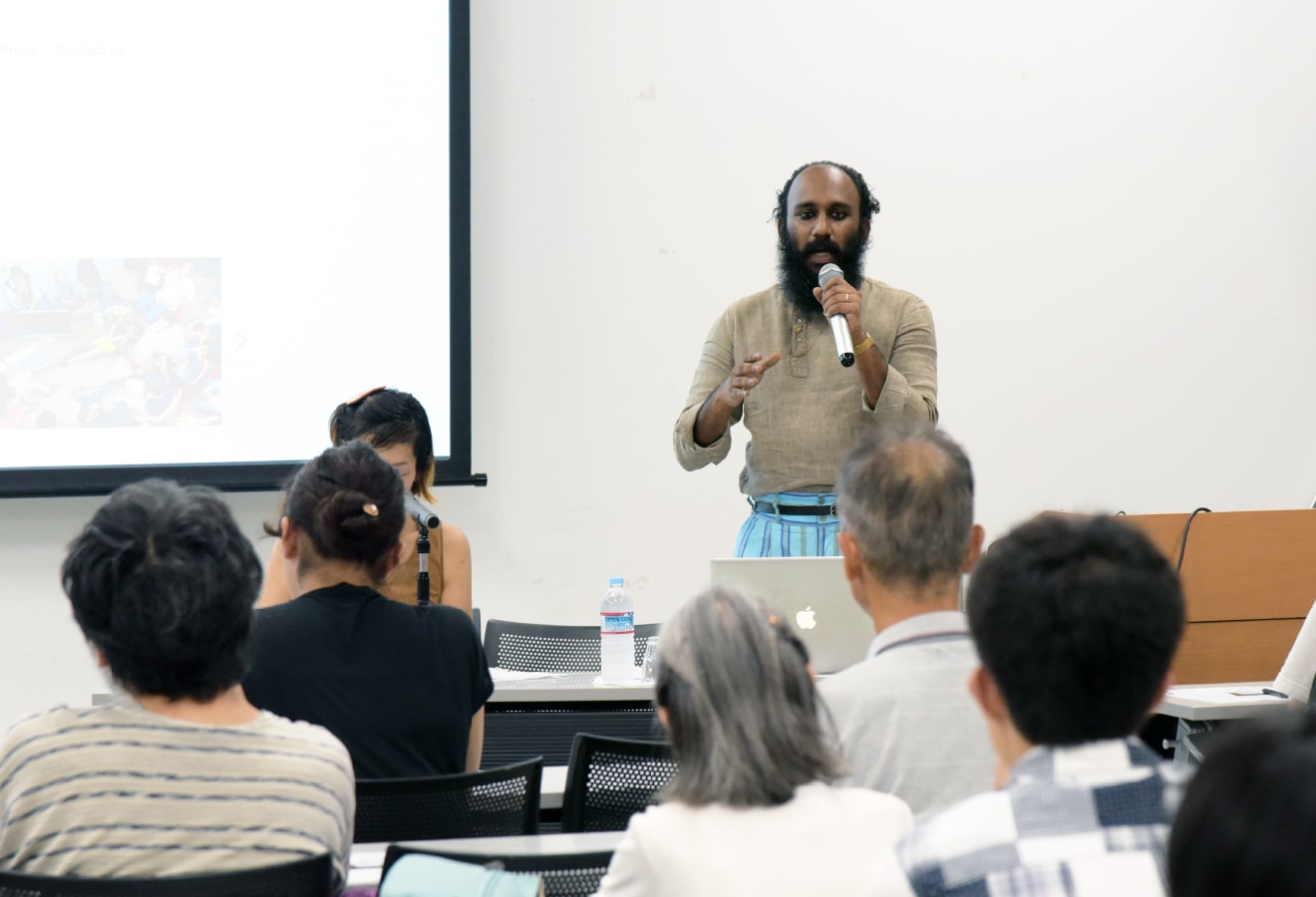 The contemporary art environment has become extremely complex in recent decades, and identifying the best path to a global career as an artist in this environment can be a struggle. It is no longer even remotely possible to acquire an overall picture of art that is being produced around the world, concurrently, in countless locations. Opportunities for artists to present their work have increased significantly in Japan's Asian neighbors especially, with new art museums and flourishing art fairs and international exhibitions accompanying economic growth and modernization, and global attention is turning more and more to this region. Meanwhile in Japan itself, where the general feeling is that the work of putting in place the institutions surrounding art has been done, conversely new questions are being raised around the institutionalization of art, the role of artists in society, and the building of global networks.
In Kyoto, the city's numerous art schools turn out a new cohort of artists every year. What connections can be found between this town at the very heart of traditional Japanese culture, and the increasingly complex contemporary art scene? To help address this issue, in 2016, Kyoto University of Art and Design (now Kyoto University of the Arts) launched the ULTRA X HAPS TALK series in conjunction with HAPS (Higashiyama Artist Placement Service). These talks have touched on various aspects of an increasingly diverse contemporary art and modern society via the perspectives of artists, curators, researchers and collectors from around the world. In 2018, the Global Seminar was set up at post-grad level as a course for artists, curators and others hoping to build international careers. This series of talks was subsequently relabeled Global Art Talks (GAT) and since then has continued in the form of public lectures by six guest lecturers every year. Attendees have learned a great deal about the world from a broad spectrum of viewpoints. This includes learning to question relationships with the world within the unique social and political context of each region; to re-read the history of the Cold War, post-Cold War legacies, and traditional culture; practice and issues involving the conservation and archiving of artworks; awareness of climate change issues and changes in the industrial structure; and connections with the vast natural world, explored from scientific and religious viewpoints.
ICA Kyoto will take over GAT as one of its main programs, partnering with the Kyoto University of the Arts graduate school Global Seminar program to engage guest lecturers. We look forward to continuing to offer an exciting program helping the next generation of artists and curators, and everyone involved in contemporary art, to join the "pieces of the world" that become apparent from the viewpoints of different lecturers, and map out their own first steps into that world.
Previous Global Art Talks
032
Infrastructure and other Stories
Heman Chong (Artist, Singapore)
031
My Evolving Role as a Curator
Mika Yoshitake (Independent Curator, United States)
030
The hardest thing I've ever done is keep things simple
Lee Kit (Artist, Hong Kong)
029
Charles Lindsay (Artist, San Francisco, USA)
028
Greg Dvorak (Professor at Waseda University, Independent Curator / United States, Japan)
027
Kodama Kanazawa (Curator, Japan)
026
Rayyane Tabet (Artist, Lebanon)
025
Ken + Julia Yonetani (Contemporary Artists, Japan / Australia)
024
Hattori Hiroyuki (Curator / Associate Professor, Akita University of Art / Visiting Professor, Kyoto University of the Arts, Japan)
023
Yamamoto Hiroki (Scholar of Cultural Studies /Artist, Japan)
022
Refusing to get used to the new normal
Jun Yang (Artist, China / Japan / Taiwan / Austria)
021
Site-Specific Art: What We Can Do At That Place, At That Time, With Those People There
SHIMABUKU (Artist, Japan)
020
About a New life, a Silence and Hawaii
Koki Tanaka (Artist, Japan)
019
Story Time
Lee Mingwei (Artist, Taiwan / France / USA)
018
Expanded field
Anya Gallaccio (Artist, UK / USA)
017
Research Analysis, Interpretation: How Can Art Have Dialogue with History?
Kamiya Yukie (Director of Gallery, Japan Society, New York, Japan / USA)
016
Festivity and Contemporaneity: worldly affinities in Southeast Asian art
David Teh (Independent Curator / Associate Professor at the National University of Singapore, Singapore)
015
Possible Worlds
Susan Norrie (Artist, Australia)
014
Sweat turns to salt: slowing down nature in liminal places
Michael Joo (Artist, USA)
013
How to Make Art Timeless: The Legacy, the Foundation, and Preservation in the Case of Arakawa+Gins
Tezuka Miwako (Curator, Japan / USA)
012
Ifs, Ands, or Buts
Heman Chong (Artist, Singapore)
011
Now Here & No Where
Shreyas Karle (Visual Practitioner / Co-Director of CONA Foundation and KATCONA Design Cell, Mumbai, India)
010
What does it mean to live as an artist?
SHIMABUKU (Artist, Japan)
009
Is curating a form of journalism or is it storytelling, fiction?
Saskia Bos (Art Historian / Independent Curator / Critic, Netherlands)
008
My Journey with Art
Rudy Tseng (Independent Curator / Art Collector, Taiwan)
007
Origins of Participatory Art: Claire Bishop, with a focus on "Artificial Hells"
Omori Toshikatsu (Critic of fine arts / Contemporary art historian, Japan)
006
Will Art Change When the World Changes?
Kataoka Mami (Professor, Kyoto University of Art and Design, Graduate School of Art and Design Studies / Chief Curator of Mori Art Museum in Tokyo [at the time], Visiting Professor, Kyoto University of the Arts, Graduate School / Director of Mori Art Museum in Tokyo[current], Japan)
005
Communicating with the world
SHIMABUKU (Artist, Japan)
004
Parts of a Whole
Eungie Joo (Artistic Director, 5th Anyang Public Art Project [APAP 5], Anyang, Korea [at the time] / Curator of San Francisco Museum of Modern Art [current], USA)
003
Spectrum to Specter
Dane Mitchell (Artist, New Zealand)
002
Contemporary Art in Central Asia: Post-Soviet Context
Gulnara Kasmalieva & Muratbek Djumaliev (Artists, Kyrgyz Republic)
001
Chiang Mai Social Installation in Context
Gridthiya Gaweewong (Artistic Director, The Jim Thompson Art Center, Bangkok, Thailand)