Special lecture series hosted by Kyoto University of the Arts Graduate School and Artists' Platform from the Department of Fine and Applied Arts
Thinking from "Artifacts": Curatorial Practice on Sites and Objects
Guest Speaker: Keino Yuka (Curator, Aomori Contemporary Art Centre) Moderator: Tsutsumi Takuya (Independent Curator/Graphic Designer)
2022.03.09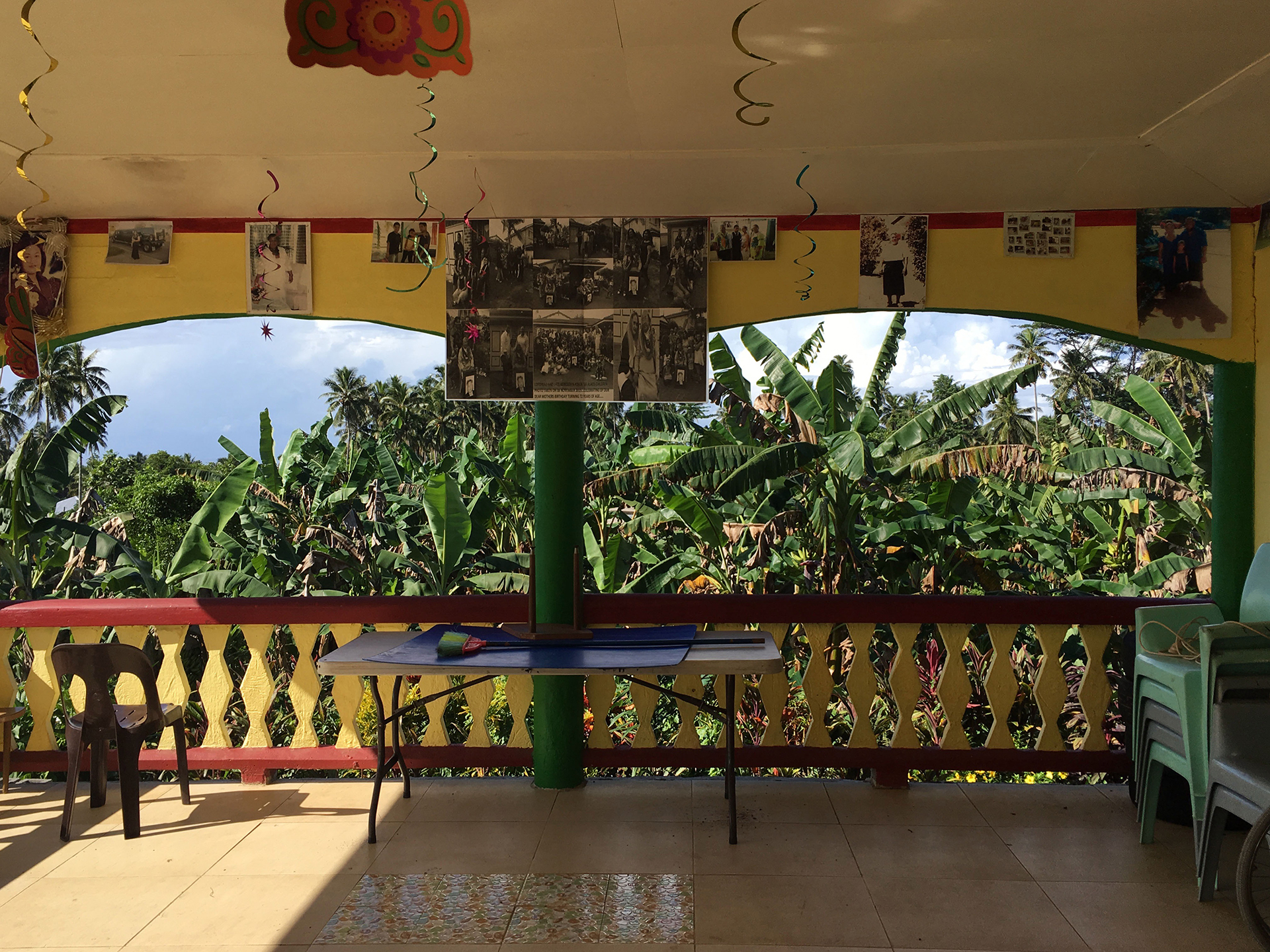 By using her own unique methods, emerging curator Keino Yuka has been curating in several places and sites such as Akia, Samoa, and Aomori; all of which are different from so-called cultural and economical centers of the world. The course of her career has followed institutions in spaces such as a public university, national museum, or occasionally an art center specializing in artist-in-residence. The starting point of her curatorial practice was to present artifacts; which ranged from folk artifacts, crafts, artworks, rituals, and even parallel processes of creation. This review is a summary of the lecture, which was presented by Keino on her curatorial works found across various regions in the world, from an anthropological and museological perspective.
Text by Tsutsumi Takuya
---
Working with Artists (Akita/2014–2016)
Keino Yuka studied philosophy and pursued Georges Bataille's thought and art theory at university. After her undergraduate degree, she started her Master's at the Graduate School of Interdisciplinary Information Studies in the University of Tokyo. While she studied museology and art history under Nishino Yoshiaki, a professor and director of the University Museum, at the University of Tokyo, Keino worked occasionally as part-time staff and also took internships at several museums — motivated by her interest in museums and exhibitions. Triggered by those experiences, she understood that museum and institutional works would be far from the usual production sites artists immerse themselves in. When she began to work at the Social Contributions Center run by Akita University of Art, she realized that her interests had shifted from the institutions of museums with artifacts, with material and samples — those that are basically static and immobile — to dynamic processes of the creation, where the directions and results were changing based on the animated situations all protagonists took part in.
In Akita, Keino curated and managed some educational projects which ranged from historical and cultural on site research to begin open discussions with citizens and students — by inviting emerging artists to create a relationship with society, located at an empty house near the university. After these discussions, these actions of public engagement were integrated into an exhibition held at BIYONG POINT, a white cube gallery run by the university, and also at a garage within the city.
Currently, there is no way to verify to what extent the citizens and students involved in the projects learned from that time she orchestrated the project, but as far as I know, her attitude was certainly taken over by the Arts Center Akita; which was founded in 2018 to collaborate between the university and community: to integrate itself with the site and local residents in Akita.
Additionally, it could be said that her curatorial practices in Akita were to challenge the existing theory of the curation, to generate a concept and theme beforehand and select artists and artworks in accordance with it. This style linearly proposes an exhibition as an authentic output to the public without any reflexive questioning of the way of curating. Taking into account that she attempted not only to make an exhibition as one of an aesthetic practice, but also to design occasions for educational dialogue among the participants, her curating is close to the curatorial as defined by Maria Lind.
Keino then presented a map of the Pacific region before us and narrated her following career path.
Is Oceania a Developed Curatorial Region? (Samoa/2017–2019)
Through the experience and condensed time with the involved artists and participants in Akita for two and a half years, Keino suddenly constructed a new objective: she needed to go back to a museum to extend her curating methods and find a curatorial concept to perpetuate her life as a curator. At the same time, she learned of a volunteer program called Japan Overseas Cooperation Volunteers, designed for museum curators. Keino then decided to apply to participate in the program. Finally, she was given a position at the museum of Samoa in January 2017.
The Independent State of Samoa (formerly known as Western Samoa) is a Polynesian island country consisting of seven islands, located in the South Pacific Ocean. From 1899 to 1926, the country was a mandated territory fluctuating between Germany and New Zealand. In 1961, New Zealand granted Samoa independence. Additionally, the country American Samoa is located 64 km east of Samoa, and as its name indicates, it has been a territory of the United States since 1899. Because of the similar history that these two nations share, their local cultures encountered Western ideas mainly through missionary activities, creating a unique mixed culture in this region. This is one of the reasons Keino came to this location as well.
As an international volunteer and a curator, Kieno started working at the museum of Samoa, which contains about 500 collections and visitors ranging to almost 3,000 in a year. The most problematic thing Kieno faced when she arrived is that the museum does not have any professionals available for curating. The workers were then not able to set proposals, prepare contents, or stage shows with meaningful concepts. When borrowing materials and objects from neighboring countries such as New Zealand, the institution displayed such items without the technique and knowledge for creating exhibitions.
Keino's first task was to teach the workers basic procedures and methods to set up exhibitions. That is one of the obligations for a participant of Japan Overseas Cooperation Volunteers. While making an effort to teach, Keino had to think radically about curating methods and its cultural background in Oceania, specifically the multiethnic population and multicultural fields. Most importantly, she realized through the process of such hypothetical consideration, that the culture in Oceania puts weight on the state of temporariness out of performance rather than of durability out of an exhibition. As an example, Keino presented photos of an Agriculture show conducted in 1930, as well as a film from the time period, where a fine mat, a tradition of Samoan culture, was unveiled. Hence, this is a culture that values the form of cloth as an integral part of life, what is essential for them is to temporarily share a ephemerial event with the audience rather than to bring and open historic and aesthetic treasures up to the citizens through collections and exhibitions; which comes namely from the Western-derived museum system. Therefore, there may be things that are incompatible with exhibition culture in the first place.
Furthermore, she introduced cases of the curatorial in Oceania: the Pacific Collection Access Project, a permanent exhibition at the Museum of New Zealand Te Papa Tongarewa, and a few collaborative works of communities and artists in Asia Pacific Triennial of Contemporary Art.
Curatorial Practice towards Sites and Objects (Aomori/2019–)
At the end of the lecture, Keino talked about the group exhibition "The Beginning of Life/Art: Cloth Weaves Our Times, from Aomori," which was planned and implemented at the Aomori Contemporary Art Center (ACAC), where Keino has been working since 2019. This exhibition included two artists from Japan, Usui Yui and Endo Kaori, and an artist from Taiwan, Lin Gieh-Wen/Labay Eyong; based on the premise that they would be involved in Aomori's folk materials and cultural assets. The three artists exhibited works inspired by a variety of themes, such as sakiori, sashiko, rags and other local fabrics and farming tools; pre-war women's education and the acceptance of Western learning; war and fireworks; and the relationship between Taiwanese aborigines and Japan.
One of the most notable works produced in her curation is Endo Kaori's Flash and Parachute. This work is said to have been inspired by a famous phrase left by Yamashita Kiyoshi, a painter famous for his Chigiri-e paintings, after he saw the fireworks in Nagaoka: "If everyone had only made beautiful fireworks instead of making bombs, surely there would have been no war". At the end of World War II, after the air raid on Nagaoka, Aomori was also bombed. While researching in Aomori, the artist happened to learn of a pen drawing of fireworks by Yamashita Kiyoshi at Nagashima Elementary School in the city. In other words, Endo struggled to connect the ambiguity of the parachute, which was sometimes used as an emergency escape device to save lives and sometimes used as a tool to kill people — found in places other than Aomori used as a means of war.
In the exhibition the large parachute, which resembles a firework, was displayed in an open position, flanked by objects that were created in the course of life in Aomori and are now cultural assets — as well as objects that were severely damaged. In terms of the composition of the exhibition, the objects are of course part of Endo's work, but the "juxtaposition of objects" that Keino had been pursuing up to now seems to be appearing here as well.
Thinking about human life and activities from the past to the present through "artifacts". Keino's curating practice has brought a new perspective of North and South to my own curating, which has tended to gravitate towards the West and other cultures. I will continue to keep a close eye on her activities in the future.
---
Keino Yuka
Curator, Aomori Contemporary Art Centre. Born in 1989. Keino is from Kanagawa Prefecture, currently based in Aomori, Japan. She completed her Master's studies at the Graduate School of Interdisciplinary Information Studies, the University of Tokyo (majoring in Exhibition History and Art Theory). From 2014-16, she worked as a research associate at Akita University of Art for Visual Arts and Social Contribution Center (now Arts Center Akita, a non-profit organization) where she was involved in the planning and management of university-sponsored exhibitions and the university gallery BIYONG POINT. After being dispatched to the Museum of Samoa as a curator from 2017-19, she assumed her current position in April 2019. At Aomori Contemporary Art Centre (ACAC), she currently curates exhibitions based on local research and artistic residency production, and reorganizes programs to further draw out the potential of the institution. Major projects at ACAC include the exhibition "The Beginning of Life/Art: Cloth Weaves Our Times, from Aomori" (2020) and SIDE CORE/EVERYDAY HOLIDAY SQUAD solo exhibition "under pressure" (2021).