GAT027 Kanazawa Kodama
Observations of Shanghai's Art Scene (2020 to First Half of 2021)
2022.01.27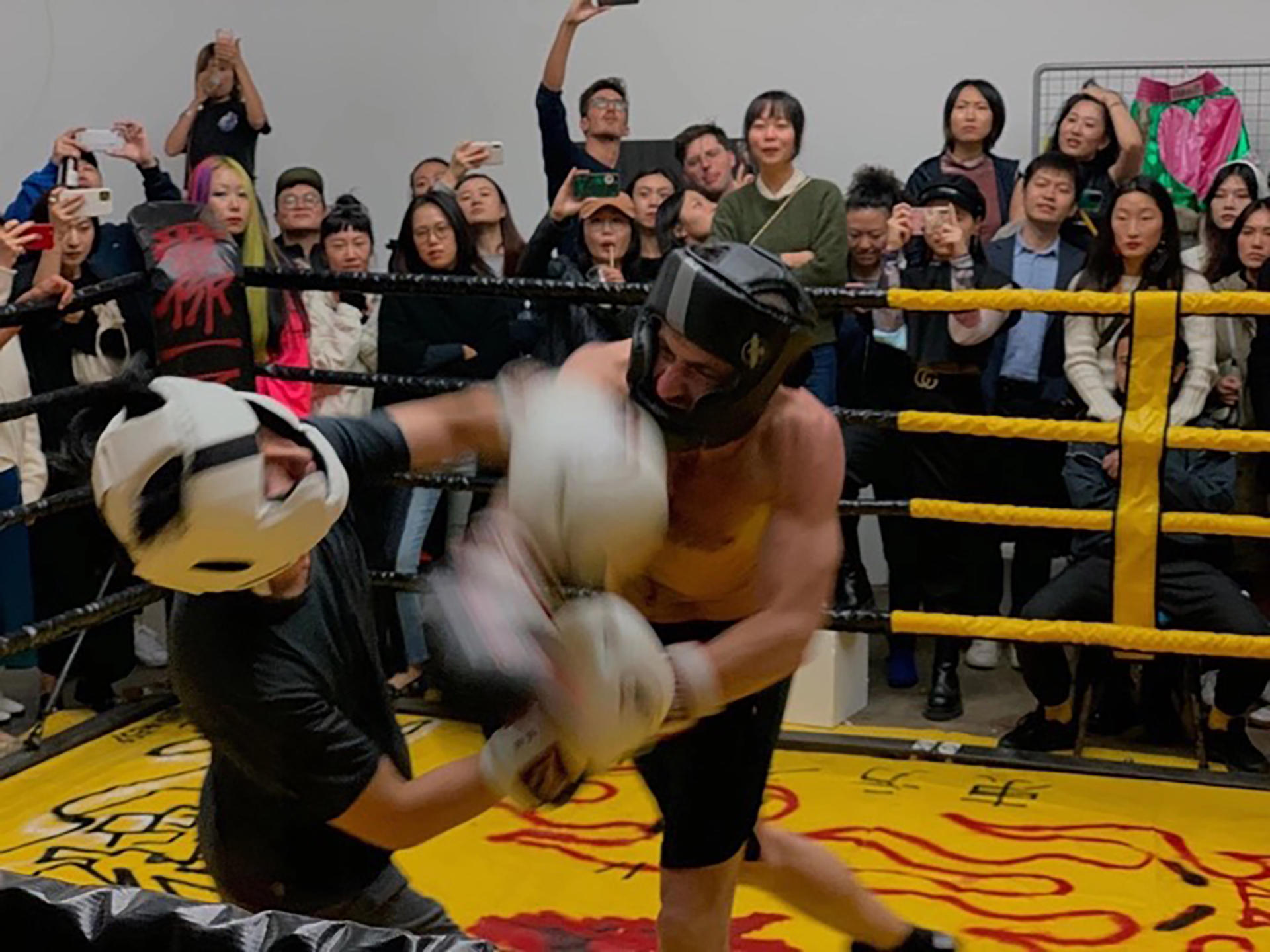 Kanazawa Kodama has worked for 12 years at art museums in Japan, trained in New York, studied at postgraduate level in London and worked on numerous exhibitions in Europe. But she says the art scene in Shanghai, where she is currently based, is different from that of any society she has seen before. "Here, art is not developing, but has formed and matured as a separate ecosystem…" What is the current state of the Shanghai art scene as seen by Kanazawa? The following is a summary of an online talk given on June 18, 2021.
Edited by Ishii Jun'ichiro (ICA Kyoto)
---
Art museums and curators
art. Many of the initiatives I have been involved in have tended to transcend established disciplines rather than deal with traditional artworks. In the field of manga, for example, I collaborated with Torafu Architects on a Yokoyama Yuichi solo exhibition. Here, the scenery continually changed as viewers walked alongside tables resembling a racetrack. This was an attempt to change the medium and adapt it into an exhibition, by presenting manga as video, for example.
Beginning in 2017, I worked for three years at the Towada Art Center. This is an exhibit by Rafaël Rozendaal, a pioneering internet artist, that involved converting a website artwork into an installation of moving images.
Mohri Yuko uses everyday items to create installations that visualize electric currents, gravity, the flow of air and other invisible forces. On this occasion she created a large-scale sound installation on the themes of turning, inventors, and the rotation and revolution of stars.
This is "Stranger Than Fiction," an exhibition on the theme of community-engaged art. It is a theme that some people view negatively, but here we considered it seriously and dealt with it positively. Kitazawa Jun introduced different vehicles from Indonesia and had local residents ride and use them. On the pretext of "building a VR museum," Nadegata Instant Party created with local residents a horse-themed mixed media museum. I had been working with Fuji Hiroshi on community involvement since the 1980s, so together we wrote a novel, Shima Takeshi, as a means of presenting this story. We also turned it into an installation.
AKI INOMATA is an artist who collaborates with living creatures. Her project using a 3D printer to create shells for hermit crabs and giving them to the crustaceans is well known. For this exhibit, she brought hermit crabs and bagworms, both living creatures, into the gallery space.
Overseas, I have worked on an exhibition at the Palais de Tokyo on the theme of childhood, Enoki Chu's first European solo show and an exhibition at Matadero Madrid in which manga were expanded into paintings and video.
More recently, I helped curate "In Time You'll Be Heard," the art exhibition component of the Yokohama Paratriennale 2020. We presented works by people with disabilities, works with people with disabilities, and works that make people think about the nature of disabilities, with nine artists and creators responding to works by six artists.
As these examples show, a relatively large number of the projects I have been involved in transcend existing disciplines to embrace manga, outdoor exhibits, living creatures, the internet, sound, communities, performance and disabilities. I think I am the "adventurous type," sensing joy in encountering new things and cultivating parts of my brain that have not been used before.
Incidentally, the art scene in Shanghai, where I now live, is bewildering even for adventurous types like me, providing one surprise after another. I want everyone else to experience it too.
Apparently there are around one hundred art museums in Shanghai all together, though Power Station of Art (PSA) is the only government-sponsored contemporary art museum. Because it is housed in a former power station, impression-wise it vaguely resembles the Tate Modern in London. However, whereas at the Tate Modern exhibitions tend to be tightly packed, whenever I go to PSA they seem sparse.
I was wondering why this was, and heard there are three curators along with ten curatorial assistants. This is completely different to the situation in art museums in Europe and North America, which have curatorial teams of 100 or even 200 members. At the HOW Art Museum one can always see exhibitions that are scrupulously curated, but this museum was founded by a collector. There is one curator, two associate curators and one exhibition assistant.
Ming Contemporary was built by a developer, with a contemporary artist on board as the "brains" and curators commissioned as required.
In Japan, public art museums are dominant due to their large numbers, and when we think of an art museum we automatically think of a prefectural or municipal institution with several curators. In Shanghai, however, the sources of money and management structures are different so we probably need to change the way we look at things.
Artists and the art scene
In 2020, Shanghai was completely closed in around February and March because of the coronavirus.
At the time, pages from newspapers such as this one showing medical staff in action were posted on neighborhood noticeboards. Apparently this kind of "socialist realism" tendency is definitely still a thing. Occasionally when I visit an art university for some reason or another I see works of this kind. But because my specialty is contemporary art, I will limit myself to this brief mention.
The first thing I want to note is that exhibitions in Shanghai are large.
This is from a Zhang Enli solo exhibition at PSA. It shows a single, massive installation.
This is from another exhibition at PSA by the Parisian creative duo M/M. It is one of several astonishing shows that had me wondering just how much money was spent putting them together.
All of the fixtures in the background were made especially to fit the venue. The impression is of lots of pieces of playground equipment. This kind of thing would be impossible based on the thinking around budgets at Japanese art museums… They're also fun to look around.
Another trend is playful exhibits.
This is from a Zhang Ding solo show at the Fuxing Art Center. Zhang comes from a background of creating works that produce sound and light, and this piece is in the form of a mirror room. I get the sense that it's leaning towards entertainment, or that the artist is conscious of how the work "looks."
In Lu Yang's performance at CAC (Chronus Art Center), characters in the world of the artwork, which is constructed as a video game, are connected to the performer using motion capture. Lu was an artist who had freed herself from existing "art" genres.
Collaborations with commercial facilities are also numerous, with artists actively involving themselves in such projects. I think this is quite astute. This is an exhibit by Wang Yi installed in the connecting corridor of a new mall in Xintiandi.
Shanghai, and the energy there
In Shanghai, I strongly think art is something more "personal" or "private" than something "public." It is incredibly spectacular. And everybody is taking photos among this. Enjoying art through selfies is one method of appreciation.
Amid this, I sometimes also wonder about becoming detached from art, art history, history and context as a curator. When I'm in Shanghai, I sometimes wonder if perhaps context wasn't actually necessary.
At the same time, there is also the freedom made possible by great financial strength. Being able to sense and experience this affluence at exhibitions by designers, the first of which I saw at PSA, is amazing.
Alternative spaces seem few in number, but occasionally they host interesting projects. This is from an exhibition by Yu Ji held in an apartment in the middle of Shanghai owned by Lu Xun, who owns the Sifang Art Museum in Nanjing.
In a small apartment in An Fu Lu, the artist and his wife staged a private exhibition, which people made reservations to go see. In organizing it, they said they tried to think of what they could do during the pandemic. At TANK Shanghai an art market was held. The artists figured out a good way to handle the situation and presented items that could be bought for between a few hundred and tens of thousands of yen and served the customers themselves.
At "Quánlì Ranking,"[*1] a boxing event staged by Tang Dixin at his own studio, artists, collectors, gallerists and art museum directors slugged it out.

[*1] Two meanings "authority's power" and "fist's power" on the same pronunciation in Chinese.
When I looked at this art scene, I was struck again by its youthful or flexible qualities, and that there are things this condition makes possible.
---
Kanazawa Kodama
Contemporary art curator. She got her master's degree from the Graduate School of Tokyo University of the Arts and the Royal College of Art (RCA) in the United Kingdom. After working for 12 years in public art museums such as the Contemporary Art Museum, Kumamoto, she began working independently in 2013. Her recent major curatorial projects include Yokohama Paratriennale 2020, Hangzhou Fiber Art Triennial (Zhejiang Art Museum, Hangzhou, 2019), solo shows of AKI INOMATA, Yuko Mouri and Rafaël Rozendaal (Towada Art Center,2018-2019), Enfance (Palais de Tokyo, Paris, 2018) ), Kenpoku Art (6 cities and towns in Ibaraki Prefecture, 2016), etc. She is co-founder of Gendai Bijutsu Online Event JP, a calendar website of online events of/about contemporary art conducted in Japanese.

* This talk was held online on June 18, 2021.