Review
KYOTO STEAM 2020 International Art Competition: Start-up Exhibition
By Fukunaga Shin
2021.02.26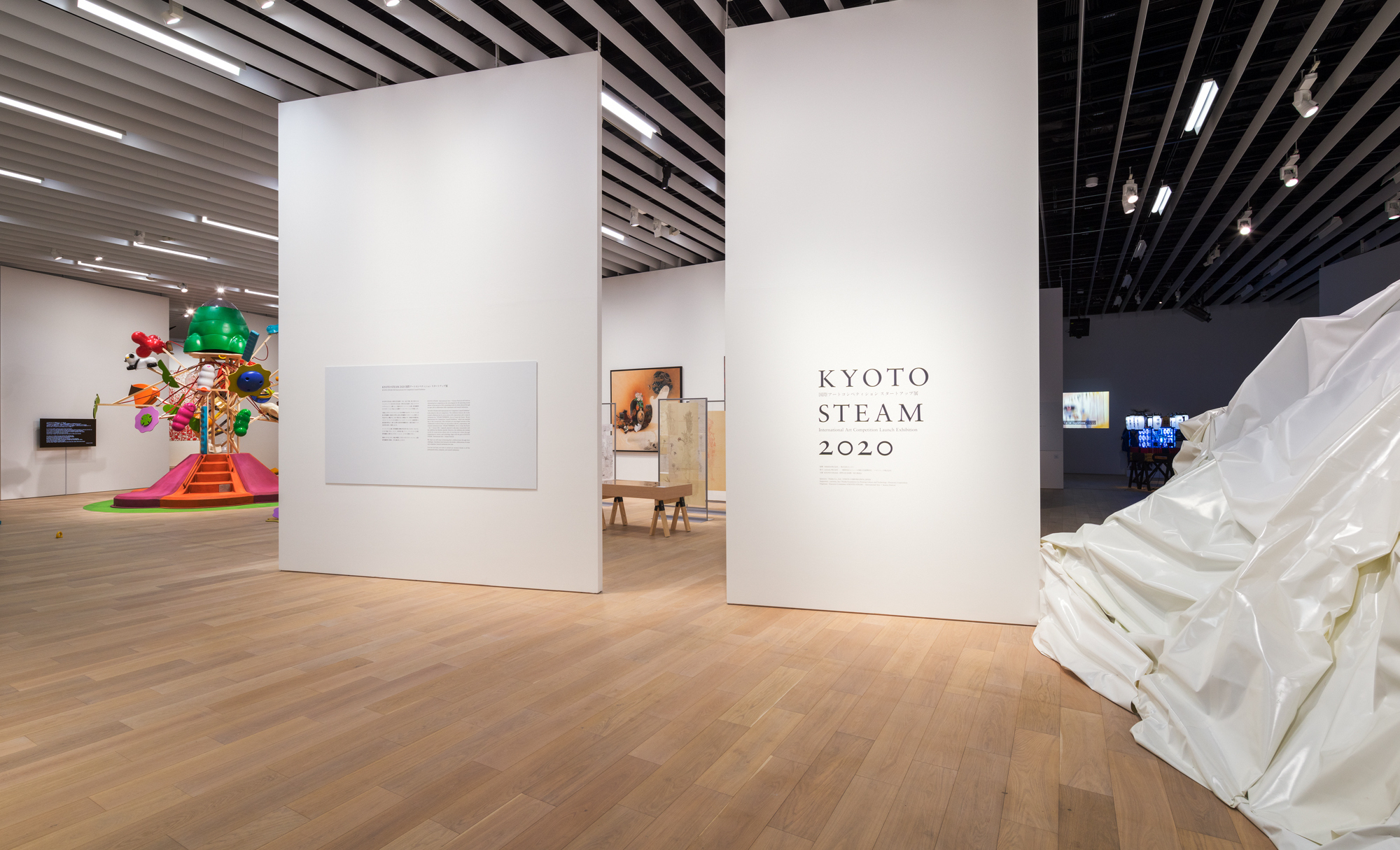 In recent years there has been a growing tendency to either display a certain timidity around language, or the complete opposite, that is, to utter words violent enough to inflict damage on others. But while the latter has the status of a social issue, the former is rarely discussed. What does it mean to be timid when it comes to words? To me it means having an extreme aversion to being mistaken, a desire to avoid failure, to flatter, to have a conscious desire to conceal.
The description for "KYOTO STEAM 2020" says it is an exhibition that "centers on" "collaborative works" by "businesses/research institutions etc" and "artists" and "art colleges etc." In reality it also includes much that could not be described as "collaborative." Hence the deliberate use of "centers on" so that no one points out that the organizers are mistaken (the etc. of "art colleges etc." performs the same function). If you write "centers on" "collaborative works" it does hint that there are "works other than collaborations" herein, without having to state explicitly what they are. Walking around though, you find them quickly enough.
Interference by curiosity, inc. is a fun interactive piece in which video images resembling ripples on water magically appear to coincide with the motion of visitors walking across the floor. Meanwhile, TOU – Breathing Wall, "jointly developed" by Panasonic and a firm called Konel, was a fascinating work that reacts to wind, recreating it as shapes on a wall. It is however an "appliance" with plans already in the pipeline for rollout in architectural settings (it even has a dedicated website). These are new product presentations, firmly aimed at commercial applications. An exhibition that insists it is an "art competition" cannot (should not be able to) set such "aims" so obviously the phrase "product presentation" is taboo here. But if anything, the organizers of this exhibition are of a mind to take that direction in future, and are indulging in a little trickery for the time being by writing "centers on" "collaborative works," with the aim at some stage of sneakily turning it into a venue for product presentations… or that's what I imagine anyway, yet—and forgive me going on a bit here—the very being of the "artist" is obviously an alien other to "businesses/research institutions etc," capable of behaving unpredictably, that you can never be certain has come along to present any products.
Cells and Glass by "Hayashi Yuuki X the Center for iPS Cell Research and Application, Kyoto University (CiRA)" is a narrative-based video work set in a not-too-distant future in which the use of iPS cells is widespread, however with its vital "windows" setting simply left hanging in its function as metaphor, ultimately the work does no more than hint nebulously at transience and hope. Doubtless the artist learned a lot in the production process, but one suspects the Center for iPS Cell Research and Application would not have got as much out of it; I doubt the not-too-distant future portrayed in the work would have had any impact on their research. We the audience too only get a series of romantic images. In short, Cells and Glass fails as a collaborative work. But to my mind, this doesn't matter. Fiddling around with what in Japan are widely recognized images of "iPS cells" is a tough task. Working with this material, anybody would have failed, and it's as if Hayashi's "collaboration" was actually with the likes of failure and risk. Naturally it opposes head-on the notion of a "product presentation." Hayashi's stance on collaboration will likely embolden next year's participants in the show. Yet of the works on display by a total of thirteen pairings, there were no other examples of the sort offered by "Hayashi Yuuki X the Center for iPS Cell Research and Application, Kyoto University (CiRA)," most of the works being merely tie-ups matching artists with partners that doubtless seemed a reasonable fit. Unable even to fail, serving as advertising for "businesses/research institutions etc" from beginning to end, they consistently deflated any anticipatory tension we the audience may have felt.
Among all this, one auspicious "collaboration" in my view was Between the Membranes by "Mori Taizo X Taiyo Kogyo Corporation." The "membrane" here refers to the materials for architectural applications developed by Taiyo Kogyo, and in this work, product destined for disposal was piled up to the ceiling like a trash heap of sorts, to the extent of pressing against the walls. The exterior view, which seems to show the sorry end of a "product," is a messy, crumpled, patchy spectacle, and I can't imagine any company wanting to see their own product employed in some pseudo-fly-tipping scenario like this, but the artist does not flinch from doing so. Taiyo Kogyo for its part appears to be getting a kick out of the artist's concept; saying go ahead, do what you want with the stuff. The spectator can go right behind the "membrane," and stroll in a timber forest that could be described as a piece of improvised architecture. Despite being assembled in seemingly random fashion, everywhere the wood achieves a sculptural effect that compels the spectator to stop and take a closer look. The artist's playfulness (the daring that comes from having no fear of failure), and skill in utilizing whatever is on hand (not spending any cash) must have surprised, and influenced, his corporate partner. Perhaps they should invite him to sit on the board.
Fukunaga Shin
Novelist. Studied at Kyoto University of Art and Design.
*The "KYOTO STEAM 2020 International Art Competition: Start-up Exhibition" was held from October 31 through December 6, 2020, at Higashiyama Cube, Kyoto City KYOCERA Museum of Art.