Review: Otomo Yoshihide and Tanaka Min: For Those Proud to Be Born on This Planet—Improvisation!! @ THEATRE E9 KYOTO
Tanaka Min and Otomo Yoshihide's "Waiting for Godot – Day 3"
By Ozaki Tetsuya
2022.08.03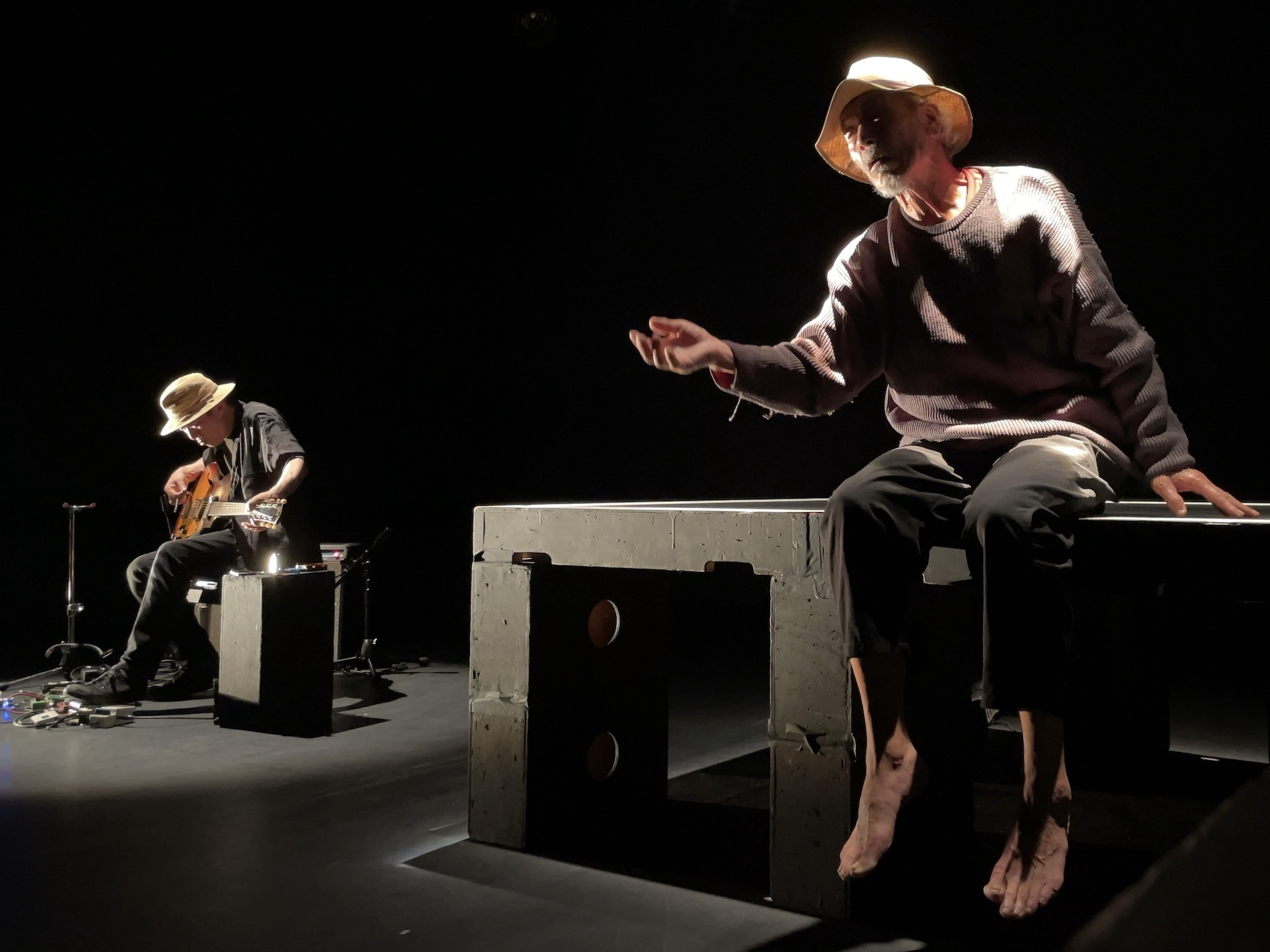 In 1978, a few months before his death, the philosopher Roger Caillois saw a performance by Tanaka Min and apparently described it as "unnameable dance," an obvious reference to
Samuel Beckett's 1953 novel The Unnameable
.
The Unnameable Dance
is also the title of a documentary film on Tanaka made by Inudo Isshin in 2022. The description is an apt one.
This coupled with having heard that Tanaka was a Beckett fan led me to imagine, when he appeared on stage with Otomo Yoshihide, that
For Those Proud to Be Born on This Planet
would be based on
Waiting for Godot
. Both men were wearing Panama hats, recalling the bowler hats of the main characters in
Godot
, Vladimir (Didi) and Estragon (Gogo). Tanaka and Otomo also wore black footwear, albeit not the clumpy boots of
Godot
. Physically, Tanaka is Didi, Otomo is Gogo.
Theatre E9 is a black box seating about a hundred. Both stage floor and walls surrounding the stage are painted black. At stage left was a small platform about the size of a ping-pong table. Slightly to stage right from the middle sat a guitar, amp and associated gear, with Otomo performing under a spotlight shining from virtually straight above his head. Pretending to be simply tuning his guitar, out of the blue Otomo struck the strings hard with an implement resembling a tuning fork. The force of this unexpected explosion of sound threw those in the front back against their seats: a sign perhaps that this was the first time they'd heard Otomo Yoshihide perform. Tanaka appeared with ponderous slowness from behind the smaller stage. Lighting from the wings cast huge shadows over proceedings.
Once you perceive the pair to be Didi and Gogo, it is impossible to see them as anything else. Beckett's play depicts two days over two acts, but maybe this is the third day? Perhaps sulking over the non-arrival of Godot, and in a huff with Didi who assured him this mythical figure would appear, Gogo studiously avoids meeting his companion's eye. As if to gauge the mood of the sullen Gogo, Didi approaches him, even peering into his face turned to the guitar, but elicits no response. Gogo appears to be simply messing about on the guitar by himself.
Perhaps also tired of waiting for Godot, or discouraged by Gogo's implacability, Didi walks like an old man, bent over, never turning round. Occasionally he raises both hands and looks upward at a 45-degree angle. He walks around Otomo, and along the walls on both sides of the stage. Climbing on to the "table," at last he straightens up. Standing at the front left edge, he lifts his gaze above 45 degrees to a non-existent sky.
In my mind, up to this point was act one of "Godot – Day 3." Act two, departing from the "difference and repetition" theme of the original (?), abruptly took on an entirely new aspect. This was occasioned by Didi, I mean, Tanaka removing his jacket at the back of the stage to reveal a bright red T-shirt. From here on Tanaka lost all inhibition, as if now determined to go his own way. He stood up straight, walked faster, even trotted. Gogo, I mean, Otomo must also have felt this change in atmosphere. His playing picked up speed, the sound grew stronger, rhythm more complex. And eventually Didi, or rather Tanaka, turned his face straight up, that is 90 degrees and began to shout: "Aaah, aaah" "Aaah, aah" "Aaah, aaah." Catharsis after that long wait.
While
Godot
is a tale of disappointment, of awaiting salvation that will never come, it is also a playful tale in which the protagonists come up with various enjoyable ways to pass the time as they wait. In the film
Sonatine
(1993, directed by Kitano Takeshi), members of a small yakuza gang led by Kitano cool their heels aimlessly on a remote Okinawan beach ahead of a final shootout, immersing themselves childlike in fireworks, sumo wrestling with paper puppets and so on. Kitano undoubtedly has the same view of the world as Beckett. As does Tanaka Min, in my view.
Today also, Godot failed to appear. But Didi and Gogo, I mean, Tanaka and Otomo, seemed to be having a grand old time entertaining themselves. And as old hands who have known each other a long time, they can synchronize music and dance perfectly even without eye contact. What jolly japes will they come up with next? I look forward to "Godot – Day 4" and "Godot – Day 5."
Ozaki Tetsuya
Editor in chief, RealKyoto Forum; Professor, Kyoto University of the Arts.
*
Otomo Yoshihide and Tanaka Min: For Those Proud to Be Born on This Planet—Improvisation!!
was held on July 16 and 17, 2022 at
THEATRE E9 KYOTO
. This review was written based on the July 17 performance.