AiR Introduction
The Villa Kujoyama: a Cultural Vessel [Part 2]
By Pierre-William Fregonese
2021.10.21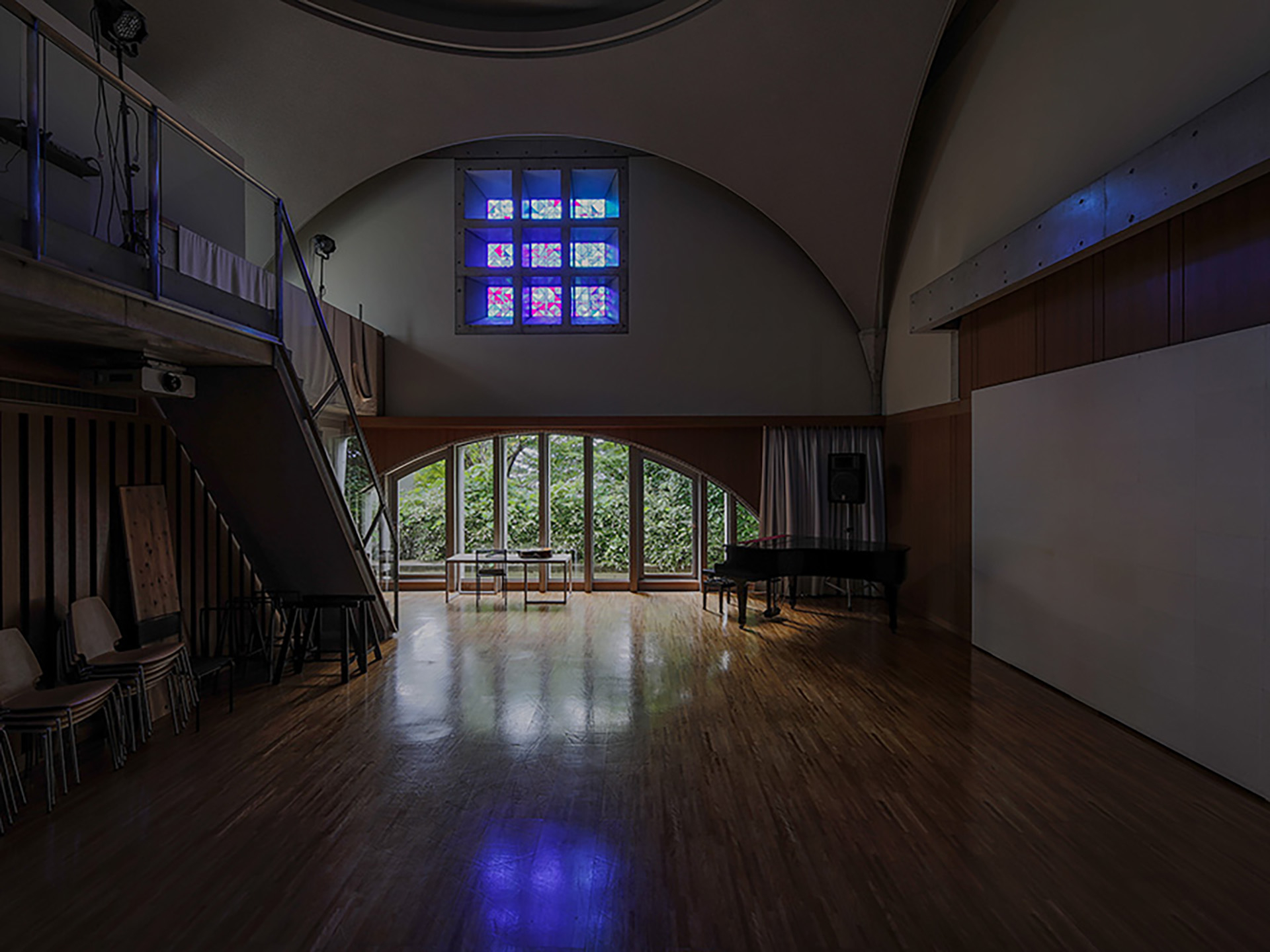 Second Breath
The Villa Kujoyama was renovated with the support of Pierre Bergé, a French industrialist who co-founded the well-known fashion label Yves Saint Laurent and reopened in 2014 under the patronage of the Bettencourt Schueller Foundation, a public-interest foundation. The team [*1] gives us some details about this key partner: « engaged in excellence, the Bettencourt Schueller Foundation aims to support Villa Kujoyama artists, residency program and activity since 2014. Following a second renovation financed by the Bettencourt Schueller Foundation in 2019 – 2021, the main patron of the Villa Kujoyama offers to our artists the best premises for their residency stay and offers a dedicated support for crafts artists and creators, which has followed the opening of this applying field in 2014. We are very glad to have offered new opportunities to crafts artists, especially in Kyoto. Also, an official program has been developed with Japanese and French artists (or living in France more than 5 years) to work on a common project with a lot of interactions."
[*1] In this paper, the « team » will refer to Charlotte Fouchet Ishii, director of the Villa Kujoyama, Lauriane Jagault, communication officer, and Satsuki Konoike, production and partnerships manager.
Indeed, following its renovation, the reopening of the Villa Kujoyama in 2014 was marked by the choice of a Franco-Japanese new direction composed by Christian Merlhio and Sumiko Oé-Gottini, but also the start of the program 'Kujoyama Duo' that hosts binational creative teams. The team explains, "the particularity of Villa Kujoyama duo is as mentioned, hosts binational creative teams (one and one) from (or located) in France and Japan, that propose to work on the same project research. Most of them didn't work together before getting selected! For this reason, the projects which result in their common stay are even more mixing the practices and the experience, in a new form, where the practice and background of one is offering new perspectives to the second, and so on. Even though Villa Kujoyama offers this opportunity (and encourages strongly) the artists welcomed to meet local professionals, having the opportunity for artists to be welcomed in great conditions and receive all the support they need to create a common project is unique." Among the flagship projects of this program, we can mention Damien Jalet and Kohei Nawa who worked on Vessel in 2015, an intersection between sculpture and choreography where the vision of the world transcends the artistic disciplines. According to the team, "following this success – and the long international tour, the two artists followed their partnership and they are working on new collaboration in 2021." This collaboration was named Planet [wanderer] and is taking place at Chaillot National Theatre, in Paris. According to the programme of the Theatre, this performance « exposes the body of the dancers to different materials to describe the visceral and oneiric link between human beings and their planet.»
Furthermore, those deep relationships between French and Japanese are inscribed into the whole project itself promoted by the Villa Kujoyama. During the artists' stay, several contacts are made by the artists in Japan. The team confirms, "this first culture contact is important, as contact is in both ways. If our creators are learning from Japan and Japanese practices, they are also learning from themselves. Indeed, this contact allows Japanese creators to learn from new techniques we used to develop in Europe or are not used anymore in France like it's the case for washi, artisanal paper for instance. Objects and materials do not have the same functions – and social status in our both countries. In Japan, the boundaries between 'crafts' and 'art' are also more fluid while European and French artists may have more freedom in their practices and encouraged to follow new ways." According to them, "this intercultural exchange pattern is visible in different scales: individual (by both gaze on each other art and practice and coming back to themselves), socially (as we think the exchanges made have been creating new opportunities, even when the artists are not working anymore together, we are transmitting their know-how in next generations and audience). Also, on a state scale (between France and Japan), the diplomatic story is long and artistic exchanges between our two countries always offer new possibilities. Our artists are also 'brand ambassadors' or French excellence."
Strategic and Artistic Partnerships
As detailed previously, the Villa Kujoyama aims to be a place for cross-disciplinary exchanges in order to foster the intercultural dialogue between France and Japan, and the projects incubated in the Villa Kujoyama reflect societal changes and innovation in both countries. "Since our creation, Villa Kujoyama has had a main goal to connect the artists in residence with local professionals in Kyoto or mainland Japan (it's unique among the other European residencies). We have been a French-Japanese project since the beginning!" notes the team. Hence, the institution has been working closely with several local and international institutions. "We develop a strong program based on partnership for our artists, but also for our program, both in Japan, France and with international partners. With the USA for instance, we are working closely with the cultural services of French embassy and a museum institution, the Noguchi museum for a post residency display."
The Villa Kujoyama also works with local institutions, as Tokyo Arts and Space (TOKAS) for a residency partnership in 2021, the bar Hachimonjiya, managed by a Japanese photographer Fusayoshi Kai, for a monographic exhibition of Mimosa Echard in 2019, the restaurant Farmoon for an collaborative project initiated by Luz Moreno & Anais Silvestro in 2019, The Terminal KYOTO for a program of Nuit Blanche KYOTO 2019 with 13 laureates, KYOTOGRAPHIE festival in 2018 with the photographer Tadashi Ono, Yebisu Festival in 2018 for a presentation of the film Osoresan by Ken Daimaru & Natacha Nisic, Wacoal Studyhall in 2019 and Shiseido The Store at Ginza in 2018 for exhibitions of artworks of a designer, Aurore Thibout, the Kyoto City University of the Arts Gallery (@KCUA) and the Kyoto International Manga Museum that welcomed self-curated selection of artist's work during her residency period: for example, Lucie Albon in 2009, PieR Gajewski in 2010, Géraldine Kosiak in 2012, and Iris de Moüy in 2015. Besides, The Villa Kujoyama sometimes acts as a cultural mediator, notably for the support at the creation of the Kyoto International Dance Workshop Festival, a major event of the Japanese dance scene, or for other partnership initiated by Villa Kujoyama, such as the ones between Occitanie region and Kyoto prefecture and between Seika University and Limoges national art school. Moreover, they offer opportunities for Japanese artists with Japanese partners, as Kyoto Art Center and Chishima Foundation for Creative Osaka with a residency program where artists can be welcomed in Paris [*2] , and then present their research conducted in France when they come back to Japan.
[*2] This program is supported by Institut français in Paris and Cité internationale des arts.
The team adds, "in Japan as well, we are working with foreign institutions such as Goethe Institute Villa Kamogawa (Germany) and the Netherlands embassy in Japan to think together with Kyoto Art Center what the future of residency programs can be in both Europe and Japan. With our artists as well, we have been developing many collaborations with universities as TASK – Traditional Arts Super College of Kyoto, Kyoto Seika university, KUA – Kyoto University of Arts , Kyoto city as well for specific events like Nuit Blanche Kyoto. Villa Kujoyama is also invited to take part in many international events (Res Artis – Worldwide Network of Arts Residencies, International Council of Museums (ICOM), etc.) We are closely and on a daily basis, working in a network (as we are part of it) in a lot of fields (artistic, economic, scholar, etc.)."
Last but not least, Villa Kujoyama has developed international relationships with prestigious institutions in France, as the Japanese Culture House of Paris, an institution managed by the Japan Foundation, an institution established in October 1972 as a special legal entity supervised by the Ministry of Foreign Affairs and reorganized as an Independent Administrative Institution in October 2003. Thus, the artists who have resided at the Villa Kujoyama, such as Fabrice Planquette (2006), Simon Gauchet (2018), have been able to present their work at the Japanese Culture House of Paris following their residency. In 2017, both institutions formalized a partnership agreement that offer the artists of the Villa Kujoyama a regular setting within the Japanese Culture House of Paris to present their work.
To summarise, the Villa Kujoyama is one of the first artists in residency who was born in Japan and the historical artist in residence from French government in Asia. While other residencies are now growing up, the Villa Kujoyama, fortified by the support of the Bettencourt Schueller Foundation, operates with a strong network. As the French Season in Japan fast approaches, which will take place throughout the archipelago, the last say rests with the team of the Villa: "As Villa Kujoyama has been a Franco-Japanese project since the beginning, we hope to celebrate and make even more well-known this bridge built for almost 30 years by our artists, between our two countries during the next French Season in Japan. This one will be held right after our 30th birthday in 2023, before the Paris Olympics in 2024. We are always between Japan and France!"
Read [Part 1]
---
Pierre-William Fregonese
Project Associate Professor (Culture and Society)
Institute for Promoting International Partnerships, Center for International Education
Program Coordination Section, Kobe University
Pierre-William Fregonese. Interview with Christophe Galati. Personal interview. July, 2020.
Pierre-William Fregonese. Interview with the team of the Villa Kujoyama (Charlotte Fouchet-Ishii, Lauriane Jagault, and Satsuki Konoike). Personal interview. August, 2020.
L'Institut Franco-Japonais du Kansai (1927-2003). Kyoto: Institution Français du Kansai, 2003.
Serres, Michel, "Pour célébrer l'échange.", Transcript of speech delivered at the Inauguration of the Villa Kujoyama, Kyoto, Nov. 5, 1992.
Villa Kujoyama 25 ans, Villa Kujoyama 25th Anniversary. Kyoto: Villa Kujoyama, 2017.