AiR Introduction
Goethe-Institut Villa Kamogawa "Verbindungsstücke – Tsunagu Mono Gatari"
By Nagamine Keijiro
2022.04.24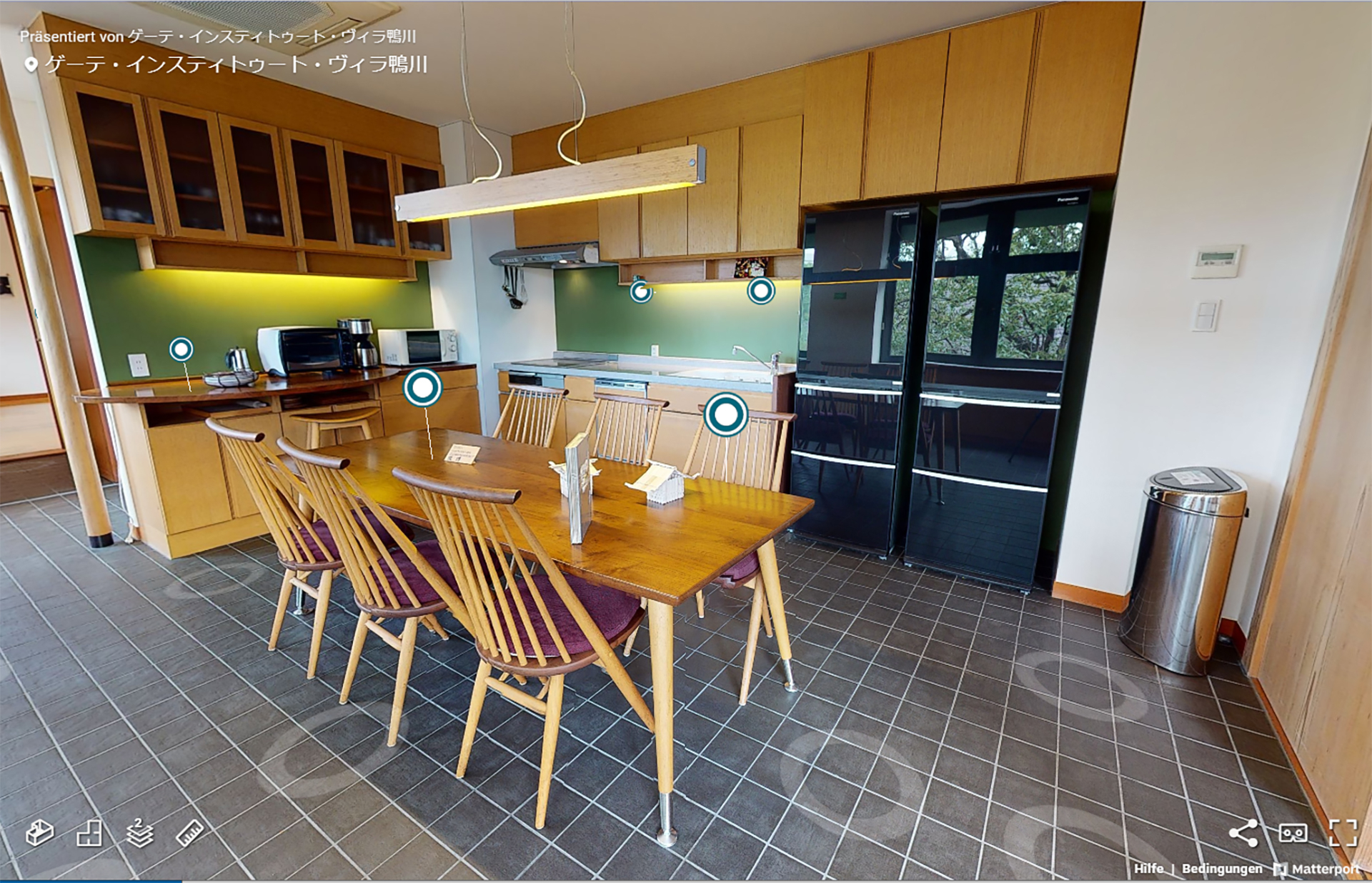 The 3D walk-through exhibition "Verbindungsstücke – Tsunagu mono gatari" opened at the Goethe-Institut Villa Kamogawa in December last year. All 130 artists who have completed residencies at Villa Kamogawa were invited to participate, of whom 82 ended up taking part. Established in 1963, the Goethe-Institut in Kyoto moved to its current location beside the Kamo River in 1983. In 2021, the institute marked the tenth anniversary of its artist-in-residence program. Between nine and twelve artists are usually invited from Germany each year, but since the last group of artists to stay at Villa Kamogawa left Kyoto in the first week of April 2020, the reception of artists has been suspended. We asked Villa Kamogawa's director, Enzio Wetzel, about the 3D walk-through exhibition and how it came about.
Since February 2020, not only arts-related facilities, but public, retail and other facilities have been asked to close, reduce their hours of operation or otherwise exercise restraint. Villa Kamogawa is no exception. Artists from Germany who were already in Japan or were planning to come here to conduct unique research (into classical Japanese dance, rakugo, etc.) were forced to postpone or cancel their residencies. In physical terms, Villa Kamogawa's role as a "door" from Germany to Japan remains suspended. The move to substitute the villa's activities to date with an online exhibition was aimed firstly at ensuring exchanges between the two countries could continue even in these circumstances. "For an online exhibition to be chosen when there are so many everyday alternatives (going to the movies, going to karaoke, etc.) isn't easy," says Wetzel. "However, considering that in the current circumstances it can be accessed from anywhere around the world, it's a good opportunity to encourage people to take an interest in what we do at Villa Kamogawa." One of the reasons behind the decision to hold an online exhibition was that previously, when a livestream introducing Kyoto craftspeople was conducted, a lot of people in Germany took an interest.
Things can get through, but people cannot come and go. This online initiative is a way of crossing a border that is difficult for people's bodies to negotiate. One of the works in the "Verbindungsstücke – Tsunagu mono gatari" exhibition focuses on this "process of crossing." With Greetings from the Kitchen (Alex Buresch, 2021 resident), which is displayed in the shared kitchen inside the residence, the artist "returned home" to Japan, the country of its birth, a can of German-made wasabi powder he bought and had actually used in Germany. Buresch had planned to undertake a residency at Villa Kamogawa from September 2021, but by the time of the exhibition the three months he had intended to stay had almost ended without him being able to enter the country. Whereas his wasabi powder is easily able to come and go, the artist himself is unable to move.
The exhibition was planned by Wetzel and others from inside Villa Kamogawa itself. "Usually, the main role of Villa Kamogawa is to support the artists' activities in Japan and take care of matters relating to their residencies," says Wetzel, "but this time we handled the curation as well." Since people could not cross the border, Wetzel's original idea was for the artists to send physical objects instead, which would then be arranged in the four living spaces inside Villa Kamogawa. It was artist Michael Hirschbichler, the curator for the exhibition, who spiced things up.
After completing a residency as an artist at Villa Kamogawa in fall 2019, Hirschbichler wrote a book based on his experiences. This became the concept for the online exhibition. Titled Geistergrund / Spirit Grounds / 霊地, the book explored, using photos and texts, how signs (narratives) within a landscape are condensed over time. At the end of the book, Hirschbichler writes, "Spirit grounds, as such dense networks of places could be termed, are places where real people and events are imbued with those that have sprung from the imagination, where reality and fiction entangle inextricably."
Here, by "networks" Hirschbichler means "connections to a particular place," and the individual photos and texts in the book are at once artworks and conscious attempts to turn these compounds into artworks. Accordingly, Hirschbichler told the participating artists that in order to create compounds there was no need for the items they displayed to be "artworks." This intent not to place an emphasis on "artworks" can also be seen in the conscious use of the word mono (things) in the exhibition title. As Wetzel put it, instead of the usual "egocentric, isolated artworks," "the business card I just handed you or the voice with which I'm speaking with you now can become artworks." In other words, the items had to be elements that gave rise to communication or existed in the process of making artworks during the artist's stay at Villa Kamogawa. Certainly, if items were displayed without this being the case, there would be the risk that the exhibition would simply resemble peeping into the tedious everyday lives of strangers. In Fire Bucket (Lea Letzel, 2019 resident), we learn how Letzel, who came to Japan to study fireworks, encountered hanabi-fu, a kind of notation for fireworks, and staged a performance together with musicians. The item displayed is a simple fire bucket, but for Letzel it represents the starting point both for her practice and for her personal connection with Japan, including with the Kyoto organist Sagawa Jun.
In his book, Hirschbichler also writes, "They're now in the thick of the urban space, piercing the topography of daily life here and there and coming to light in situations that are at once banal and eerie, where the familiar suddenly seems alien and the self-evident dubious, where distant eras encroach upon the present." The manner in which items are arranged all around the tidy, impersonal living spaces gives the impression of some ambiguous state between a place where someone once resided and someone's private world. Because the residencies last for around three months, there is usually a lot of coming and going of artists. If an artist-in-residence program is a space where private worlds converge at speed, this exhibition was an attempt to bring private worlds together to form a network at a residence devoid of people. And now that the items have been removed, perhaps Villa Kamogawa has become a spirit ground where reality and fiction are entangled.
---
Nagamine Keijiro

Artist. Graduate of Kyoto University of the Arts (formerly: Kyoto University of Art and Design), Department of Information Design, and École nationale supérieure des Beaux-arts de Paris (DNAP/DNSAP).