This may be the Land of the Free, but there's plenty cause for righteous indignation
Technical notes for a stateside sojourn, plus a little extra (4) part 1
By Kanai Manabu
2022.08.07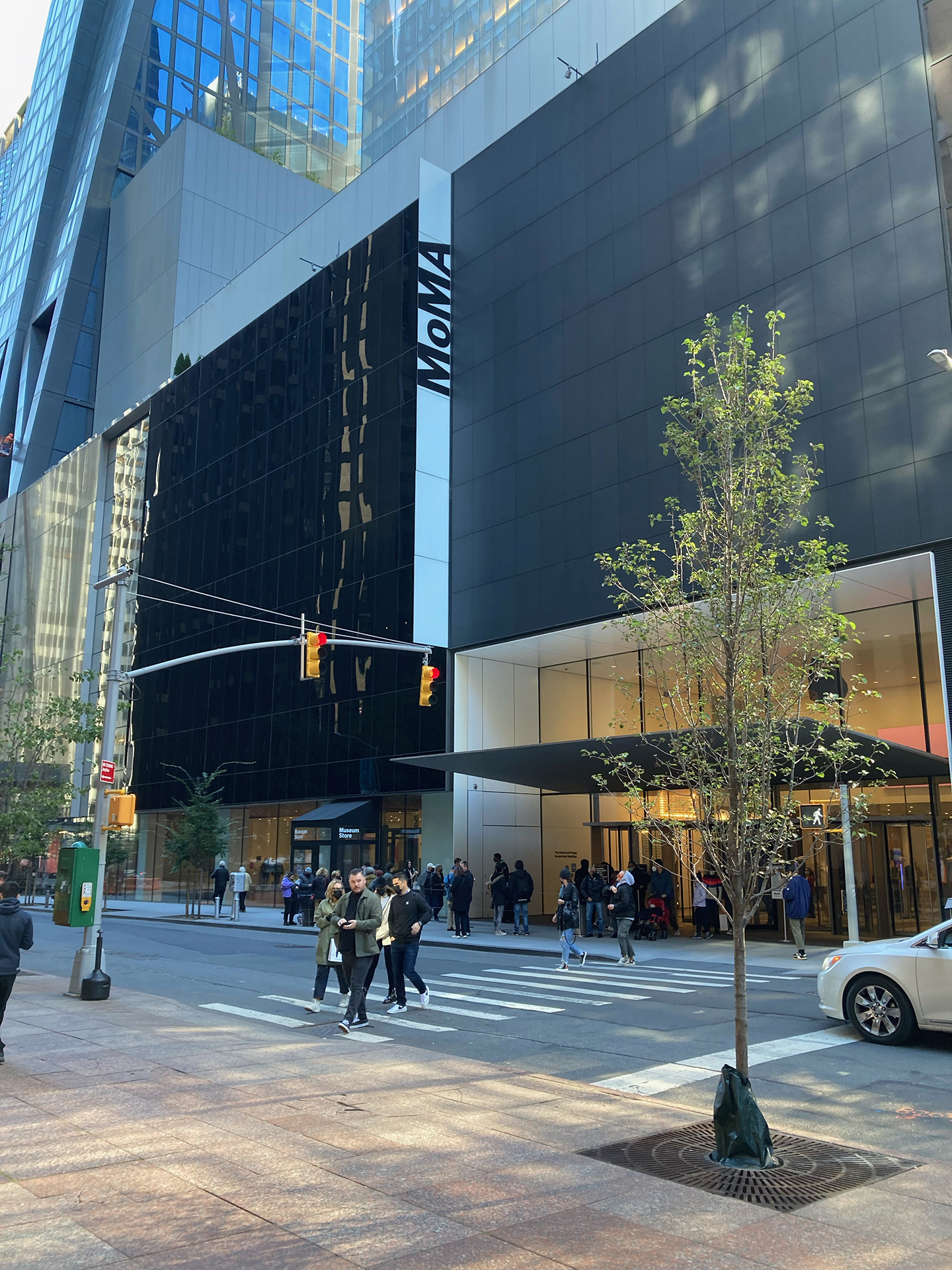 Viewing works you want to see
As mentioned last time, here I'll delve more specifically into what action I've been taking to further my interrogations arising from an interest in Frank Stella.
While it's also important to decide where to begin your investigations, at any rate, having made it all the way to New York, not surprisingly the first thing you want to do, as an artist yourself, is to see works of art with your own eyes. In my case this means works from the '60s and '70s, which basically tend to be found in the collections of art museums and other cultural institutions, and when it comes to those art museums, this being New York means there is an almost intimidating lineup of outstanding art museums, starting with the Museum of Modern Art (MoMA) and including the likes of the Metropolitan Museum of Art (The MET), the Guggenheim, and the Whitney. Ideally you'd want to visit them every day, but if you go to the websites of these museums with the intention of just booking a ticket straight off, MoMA, the MET (though free for NY residents [*1]), Guggenheim and Whitney all—almost as if they had colluded—charge $25 for an ordinary adult ticket. Obviously, they have amazing collections and you will definitely get to see the works you're seeking, so it would be over the top to complain too much about the price. If you're only in town for a short while, it's fine. But if you're staying a bit longer and can theoretically visit as often as you want, to be honest it would become a strain on the finances. Having achieved your long-held dream of making it to New York, you want to truly get your fill of those long-admired works, and if you're an artist, there are times when you want to look at a specific artist or work over and over in an analytical way, or take inspiration from them as you proceed with your own work. Thus you end up procrastinating, caught between your own desires, and the contents of your wallet… But actually, there are some surprisingly straightforward ways around this dilemma, and if you are an artist, you may even be able to receive some financial assistance. I'd advise you to take use of any and all tips and tricks available to gratefully access better deals where you can.
[*1] Or to be precise, "Pay as you wish".
(1) IDNYC Card
The first option, and that with the most benefits, is the IDNYC card. This is an ID card issued by the city of New York that is available to anyone, regardless of nationality or visa status, who can prove they are domiciled in the city, but its true value lies less in its use as personal identification than in its benefits, which include a year's membership of over 40 cultural institutions including MoMA and the MET. Becoming a member basically allows you unlimited access, at no charge, to all the exhibitions and events at the facilities in question, as well as access to members-only lectures and programs. Note also that the time-slot ticket system introduced since the pandemic often does not apply to members.
I have used the IDNYC card to join the MET, which lets you enter the museum by a dedicated entrance: great for avoiding long queues at the weekends, especially long weekends. Plus, the sheer size of the MET makes it impossible to take in everything in a day or two, so when I find myself with a spare couple of hours, whether on a weekend or weekday, I slip in there and view more of it, something only practical with a membership card. As well as art museums, I'm also a member of the Wildlife Conservation Society, which runs zoos, nature parks and an aquarium in New York. Actually I joined because I wanted to go to the New York Aquarium on Coney Island, where Stella is said to have been inspired by the sight of beluga whales to produce his Moby Dick series, but places like the little zoo in Central Park can also be unexpectedly fun to visit, and I often stop by on my way to the MET or the Frick Collection.
Obviously the IDNYC is not without rivals, and the nature of the IDNYC scheme means that in most cases, membership charges for most places apply from the second year onward, but for those like me new to New York, it's the best thing ever. The documentation page on the website tells you what you need to apply, so if you have access to the necessary paperwork, it would be a waste not to acquire a card. Proving residency can be a little tricky, but a rental agreement will suffice, and if you have a US bank account you will get mail from the bank to your home, so this will serve as proof just as easily. Just go online to book a date and time to complete the procedure in person, and head to the enrolment center. The only problem is that right now, delays due to Covid-19 have made it hard to secure an appointment (I could only get one about two months later), but I imagine that is just a pandemic issue, and will pass.
(2) American Alliance of Museums
Apart from obtaining an IDNYC card, it is probably worth joining the American Alliance of Museums (AAM). Note though that the AAM is not just an organization offering art museum entry benefits, and it pays to be well aware of that (the AAM membership FAQs make it abundantly clear that AAM membership is not a museum pass program, and that they do not guarantee any admission price benefits, so there are no grounds for misunderstanding). The AAM provides a place for those involved with museums to interact, share knowledge and concerns around museums and learn from each other, and through this kind of activity, contribute to the future development of museums and better museum policy, a worthy mission. AAM membership is open to a wide range of people involved in various ways with museums, not just those actually employed by them, but also independent researchers, students, and volunteers, and people like me who are pursuing their own individual research and investigations can also join. Professional membership costs $90 per annum. Members receive a newsletter, free admission to various events and programs, and discounted entry to some other events. I personally find AAM membership offers an interesting insight into current trends at American museums.
On top of this, an AAM membership card also entitles you to free or discounted entry to some museums. To give some specific examples, as of 2021 an AAM card gives you free entry to the Whitney, the Noguchi Museum, the Frick Collection, and the Guggenheim. Plus, because the AAM is a nationwide network, as noted above, membership is valid across the country. If you are spending a year in the US, you'll certainly have opportunities to travel to other cities, and will be able to use your card at museums in those places. I repeat, AAM membership is not a museum pass program, but being an AAM member does give you free or discounted admission to quite a few museums.
(3) Individual museum memberships
Also, if there are any museums you know you will want to visit more frequently, it may be worth thinking about individual membership of those. I became a member of MoMA. As mentioned, you can use an IDNYC card at MoMA, but I had trouble booking a time to apply for the IDNYC card, and deciding not to wait any longer, went ahead and joined MoMA separately first. Although pricing does of course depend on the membership level, all levels will set you back a bit, with even the cheapest annual pass priced at $65, though that is a good deal, as it will pay for itself in just three visits. But as noted on MoMA's FAQ page, there is a membership discount for artists, giving you "Access" membership, a level up from the annual pass, for 35 dollars. As someone from a country where as an artist, if anything happens you're referred to in the media as a "self-styled artist," this acknowledgement of artist as a profession was a pleasant surprise. You can organize Access membership at MoMA reception. In my case, for the critical "proof that you're a practicing artist" I showed them a letter from my host institution, and my website, and expressing an interest in my work, the person at the desk seemed satisfied with these. The criteria are not especially clear, but if you can show what you've done as an artist, you should be OK. The Guggenheim also has a similar discounted membership for artists.
(4) Free entry days
There are also facilities frustratingly resistant to such ploys for getting a better deal, but even some of these have a fixed day every week or month when entry is free. Information on this can be acquired from various sources (such as here), and is well worth checking out.
To Technical notes for a stateside sojourn, plus a little extra (1)
To Technical notes for a stateside sojourn, plus a little extra (2)
To Technical notes for a stateside sojourn, plus a little extra (3)
To Technical notes for a stateside sojourn, plus a little extra (4) part 2
---
Kanai Manabu

Artist. Born in Tokyo in 1983. After his graduation from Jiyu Gakuen College, he received his Master's degree from Institute of Advanced Media Arts and Sciences (IAMAS) and his PhD from Tokyo University of the Arts. He is Currently working in New York with the support of the Agency for cultural Affairs' Program of Overseas Study for Upcoming Artists.